Minivans have come a long way since the days of hopping in and out of a minivan as a child. But, despite their improvements in the last few decades, I know it can still be a struggle to give up the more fun or flashy car of single years and trade it in for a "mom" car. Luckily, there are many options for moms out there that aren't your typical soccer mom car.
Chevy Traverse The first of my three top picks for "Hot Moms" is the Chevy Traverse. I know a lot of ladies have a hard time justifying the fuel consumption of an SUV when a minivan has all the same features and gets better gas mileage. Thankfully, the Traverse will get gas mileage similar to most minivans with 17 city and 24 highway. It has flexible seating that can accommodate up to eight, and you can save your seats from the trampling feet of kids racing to the back with a Smart Slide second-row that can power out of the way with one hand. Even more important than convenience, it is an Insurance Institute for Highway Safety top pick for its high crash-test scores. If that wasn't enough, it's just a good looking car. Nothing soccer mom about it!
Toyota Venza My second pick is the Toyota Venza. One of the hardest things about SUVs is they just don't have the cargo space of a minivan when all the seats are being utilized. The Venza still has plenty of cargo space behind the second-row seat when it's carrying five in its roomy cabin. In addition, its 21/27 MPG blows a minivan out of the water. Like the Traverse, the Venza earned the Insurance Institute for Highway Safety's top scores in its crash tests, so you can feel at ease carrying your most precious cargo. It passes its final test of 'hotness' easily, possessing a body that makes a minivan forgettable.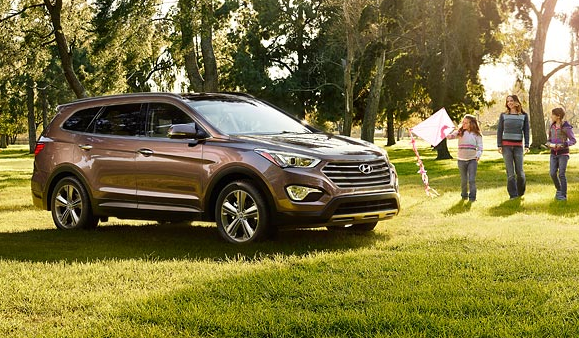 Hyundai Santa Fe My third and final pick for anti-minivan moms is the Hyundai Santa Fe. It has plenty of power to schlep the kids around, their friends, and all their gear with its third-row seating option. Family friendly features include a Blue Link telematics system with a parent-centric app that sends a text to parents when the car is driven over a preset speed, past a curfew time or outside the set perimeter—perfect for those moms with teenagers. It just barely edges out the Traverse with the fuel economy of 18 city and 25 highway. You don't have to worry about getting a good deal on this SUV—it's been awarded 'Best 3-Row SUV For The Money' by U.S. News and '3-Row SUV Challenge Winner' by Cars.com. It's loaded with brilliant safety features inside and out, including a driver's knee airbag, Hillstart Assist Control (HAC), Downhill Brake Control (DBC) and available Blind Spot Detection (BSD). With its impressive exterior, this SUV is perfect for the anti-minivan mom. If you're not ready to take the leap into the minivan, any of these SUV's rival the convenience, space, and fuel economy of a minivan without sacrificing any style. Let me know what your top picks are for the "Hot Mom" car!