First of all, for those wondering, NAIAS stands for "North American International Auto Show." Believe the hype about what you've heard, BIG things have been happening this year at the auto show in Detroit! A couple debuts have stood out in my mind, and I just had to share my favorites with you!
Nissan's Rogue Sport
The Nissan Rogue has been Nissan's #1 selling vehicle in America. SUV's have been growing fast in popularity among car buyers. So, this was a smart move for them to expound upon their SUV lineup.
This new Rogue Sport has a 2.3-inch shorter wheelbase and is 12.1 inches shorter in overall length when compared to the Rogue. With the second row folded down, it offers 61.1 cubic feet of cargo space and their innovative "Divide-N-Hide" cargo system. While smaller, it has a standard 141-horsepower! It offers available Nissan Intelligent Safety Shield technologies and A
round View® Monitor (AVM) with Moving Object Detection (MOD). Plus SO many more features to get you amped for the Rogue Sport.
Enough about the specs, the smaller size helps to make the vehicle maneuver easier, especially for those in city traffic and hunting for parking spots. It will go on sale nationwide beginning in Spring 2017 with choices of S, SV and SL grade levels and I absolutely cannot WAIT! For those who love the space an SUV offers but aren't always in need of a ton of cargo capacity, this is the car for you.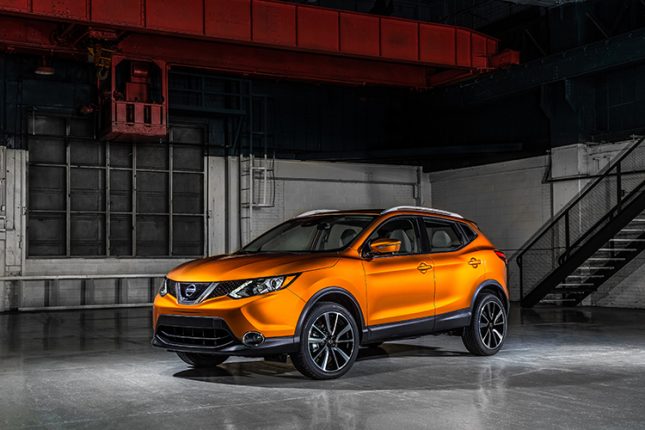 Toyota's 2018 Camry
The Toyota Camry has been America's best selling sedan for years. But recently, car buyers have been showing increased interest in small SUV's, so, Toyota took a smart move in unveiling an updated Camry in hopes to maintain its popularity against the competition.
While it's still newly 2017, Toyota took no time in planning for the future. The all-new 2018 Toyota Camry boasts a surprisingly sportier style inside and out. This is the 8th generation of the Camry, so Toyota had to maintain what people know and love while still making it exciting, new, and relevant. It comes with Toyota's dependable, safe, and durable expectations but has been redesigned to take the Camry in a new direction. To simply state it, the 2018 Camry just looks fun to drive (and that's a great first impression!) To break down some specs for you: the hood is 1.6 inches lower, dropping the occupants' seating heights an inch in front and 1.2 inches in the back with resculpted front seats and dash. Thus, making the interior, while practical, more roomy and spacious with a sport-sedan feel, and a much more attractive look.
Toyota has moved away from the monotone, classic mid-sized sedan, and put the Camry through an evolution. If that isn't enough to get you hyped, there's plenty more details to sell you on what's to come for the 2018 Camry (and I cannot wait)!