I've come across some pretty outrageous cars in all of my internet research, so I thought I'd dedicate one post to the topic. These cars are so blingin', I don't know how anyone would feel okay about driving them around in public! From gold-covered to diamond-encrusted, these cars are certainly not for the everyday folk. In fact, I'm not sure more than one or two people in the world own any one of these cars. Here's my picks for the most outrageously blingin' cars of the internet! 1. 
Lamborghini Aventador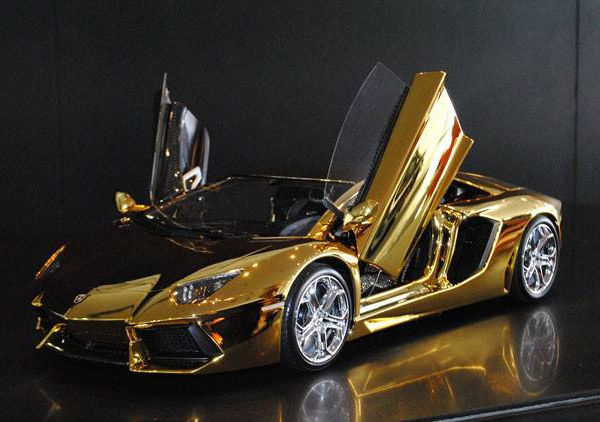 W
orth $7.28 million dollars, this gold-covered ride is the most expensive car in the United States, and maybe even in the whole world. The car was made by Robert Gulpe, displayed in Dubai, and finally auctioned off with 10% of the proceeds going to charity.
2. 
813 Customs Camaro ZL1 Convertible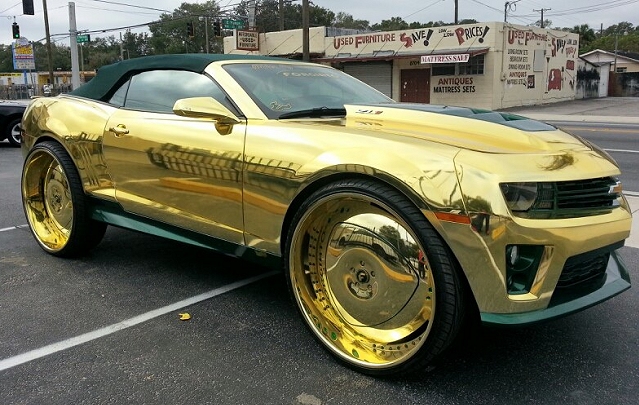 This Camaro may have started out like the rest of the Camaros on the road, but after some modifications it became the most blingin' car on the block. A gold wrap, 30-inch alloy wheels and emerald trim make this Camaro quite over-the-top. It even has 
21" tv screens, huge speakers in each door and two in the dash!
3. 
2007 Mitsubishi Double Shotz Concept
Okay, so I tricked you on this one. This blingin' car is actually a Hot Wheels model! Can you believe that? The picture fooled me at first, but this car is miniscule-sized and was part of a Hot Wheels designer contest by Mattel in the 2007 SEMA show! This might be the only car on the list I'd buy 🙂 4. 
The Black Snake
For sale in China and marketed only at the richest people in the country, The Black Snake from Dartz is actually a Mercedes GL 63 AMG, customized to the max. The Black Snake has ridiculous features like leather made from ostrich and crocodile, a hood ornament covered in diamonds, exotic wood paneling, and more. It's sold for $1 million!
5. The Bugatti Veyron Diamond Ltd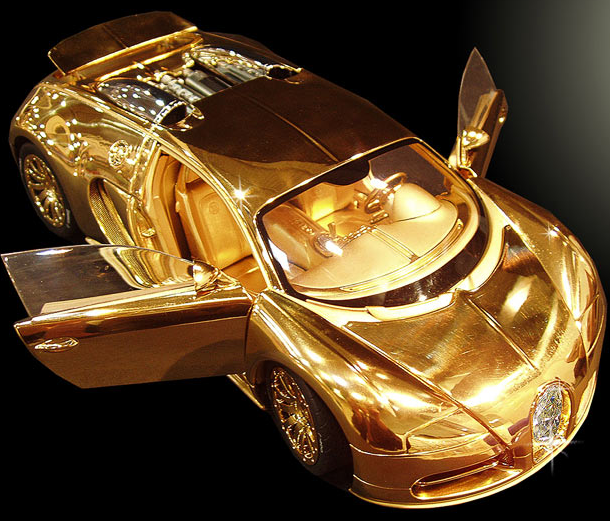 A million dollar car is nothing compared to this ride, which isn't even big enough to drive! Like the Mattel car, this is only a model car, 1/18th the size of the original. And it the was on sale in the UK for two million pounds! The pimped out version of the Bugatti was priced at twice as much as the original, and was created with platinum, solid 24ct gold, and a 7.2ct single cut diamond on its front grill.
6. Special Addition Mercedes Benz SL 600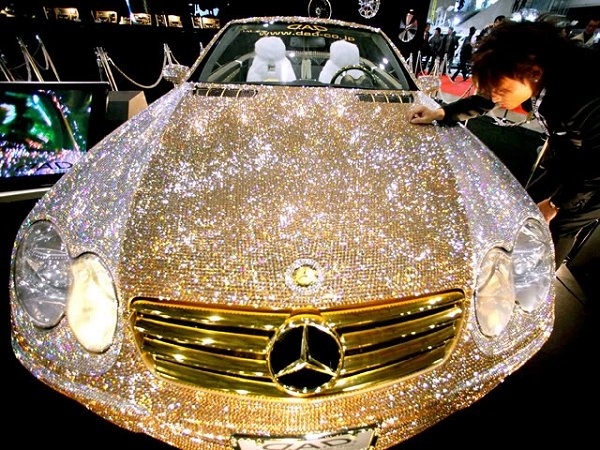 With more than $31.2 billion dollars to spend, I guess you can afford "toys" like this. Prince Al-Waleed of Saudi Arabia commissioned this Mercedes covered in diamond Swarovski crystals for $48 million dollars. It makes all of the other cars on this list seem like chump change.