I recently asked on Facebook for tips on organizing your garage, and I've had it on my mind ever since. Summer is an amazing time to get things organized, and the internet is full of great tips on how to get the job done quickly and efficiently! I love
this article
I recently read on DIY garage organization tips. Here are my top five favorites from the list that anyone could incorporate in their own garage at home. Read on to get a few steps closer to a perfect garage!
1. Hanging Jars
I'm a sucker for anything that organizes small pieces, so this DIY is right up my alley! It couldn't be simpler: just use a strong glue to adhere the lid of a jar to the bottom side of a wooden board. These can be placed on the bottom of a shelf, drawer or a bench. They are perfect for saving space and always making sure you know right where your screws are.
2. Ladder storage
How smart is this? It seems like there's never a good place for storing a ladder, but putting it on the ceiling is the perfect solution. Just use a ceiling joist to attach wood planks that have been connected together by a cylindrical metal bar. Then hang the ladder!
3. Tub compartments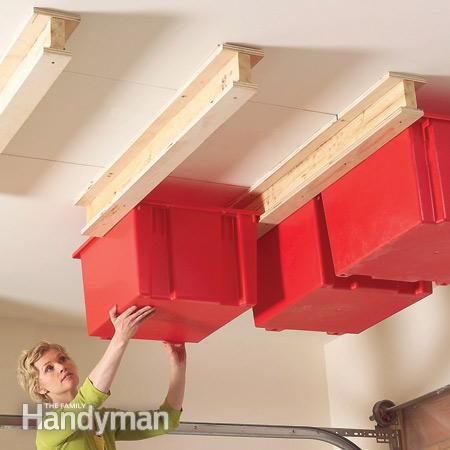 Here's another great way to utilize the ceiling and maximize your garage space. These tubs would be the perfect place to store things you don't need to access very often, such as camping gear or Christmas decorations. What a luxury it would be to have that stuff out of the way, freeing up space for other gear that gets daily use!
4. Ball compartment
This one is perfect for the family that has lots of sporting gear or loves a good game of soccer, football, basketball, etc. I've seen this style of ball storage in stores, but never would've known how to do it at home. And it's easier than you'd imagine! Just drill holes in the top and bottom of he wood, then tightly pull bungie cords through the holes. Just make sure they are spaced close enough together to avoid the balls falling through.
5. Large tool organizer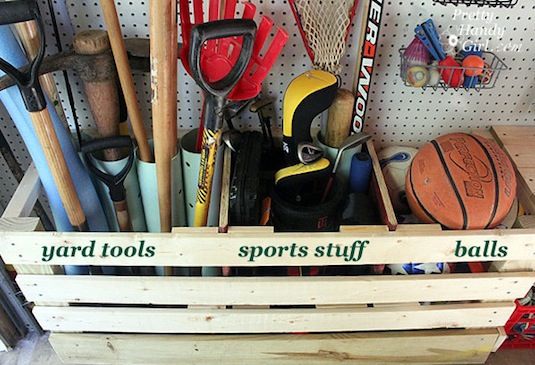 If you've ever stepped on a rake or had a broom fall on you in the garage, you know how valuable something like this can be! This organization idea is as simple as buying compartmentalized crates and sticking them in the corner of your garage. The tools are still easily accessible, but won't be falling all over the place when you're looking for something specific. Genius!