Racing calls only to those with brave hearts and intense determination. Simona de Silvestro is one of these brave souls. Simona, born in Switzerland, excelled at sports as a child. She experienced her first win when she was only 3-years-old in a ski race. She was a top regional fencer and champion at youth tennis. The first go-kart race she competed in, she won.
Simona once recalled, "When I was a baby, my dad says I was quiet only when I watched Formula 1 on TV. When I was 4, he did a go-kart demonstration, but I couldn't reach the pedals, so I cried the whole day. By the time I was 9 or 10, I knew that racing was what I wanted to do, and my whole life has been about it. Driving open-wheel race cars has always been my goal. I really never had anything else in my head."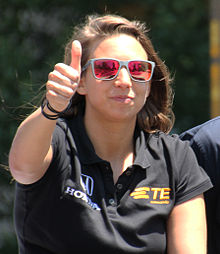 She started with European karting and junior formula series racing before moving on to Formula BMW USA and the Atlantic Championship, where she began to make a name for herself. In 2010 she was named the Indy 500 Rookie of the Year, and in that same year was awarded the Tony Tenna Firestone Rising Star Award. She had everyone's attention, and in 2014 she joined the Formula One Sauber team as an affiliated driver and began training and racing.
Simona is a great example of seizing your dreams and not letting go! What an inspiration to young girls everywhere.