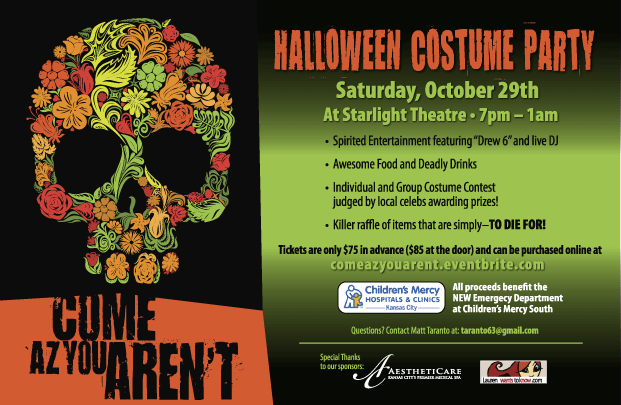 Drinks, food, dancing, prizes, charity and costumes. Any takers? On Saturday, October 29 I will be at Starlight Theatre partaking in all things listed above! Many months ago, a group of us got together to host a kick-butt Costume Party benefiting Children's Mercy South. Our goal was to raise money for the new Tom Watson ER Department, while throwing a party! No one said we can't do both, right?
Tickets are $75 online
until next Monday (10/24) and $85 at the door.
Open bar – beer, wine and Clear 10 Vodka with mixers along with soda pop and water;
A premium cash bar is available, too!
Unlimited catered food from Salty Iguana;
Live Entertainment: Drew 6 and a local DJ Leonard Leonightus Gayden;
Costume Contest for groups and individuals;
4 Scary-Cool Raffle Packages (tickets are $10 each): Beauty, Sporting Events, Family/Entertainment and Golf.
site for safe travels back to your own haunted house.
So buy your tickets, get a costume and Come Az You Aren't!!! 🙂