If getting there is half the fun, then at least a quarter of the fun comes from your camping ride. But since there's no point to rough it behind the wheel, I've put together the top three vehicles that are best suited for the trip. These camping rides typically see more duty as commuters and kid taxis, but their real talent is serving as versatile tools to better enjoy the great outdoors.
Toyota Land Cruiser The Toyota Land Cruiser is a sometimes-overlooked member of the off-road SUV club. Unless you're bringing more than four friends or need to tow a yacht, this is the camping ride you should consider. Some camping rides are cheaper, others are as sure-footed, but only the Land Cruiser ties it together with style and character.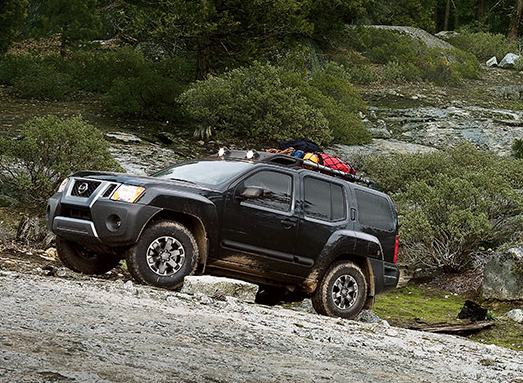 Nissan Xterra The best camping ride in the Nissan SUV bunch is still the Xterra. It has a rough-around-the-edges demeanor, but that's easily overlooked when you consider its off-road capability. The interior is easy to clean which is a plus for the inevitable pound of dirt that will make its way into your car when camping. With its ample cargo area, festooned with tie-downs and cargo hooks, the Xterra is an ideal ride for any camping trip.
Chevy Suburban It's as bloated as your Aunt Clara and nearly as large, but the Chevrolet Suburban tows, hauls and transports like no other camping ride. With a little effort, the bus-sized cabin is almost what you'd call luxurious— and we ladies sometimes need a lot more luxury when it comes to camping. It's definitely not for the eco-minded, but for those that aren't quite as concerned with their footprint, the Chevy Suburban presents one of the strongest cases as a must-have camping ride.